About the Show
Canada North Resources Expo is returning to Prince George! Featuring all of the equipment, services, and technology to get big jobs done, 2023 will be the fifth edition of this key trade event. Tons of big iron will cover four acres of indoor and outdoor space, showcasing the resources sectors' leading companies and products. Northern Canada's major sectors will be on display, including forestry, heavy construction, infrastructure development and more. Don't miss your chance to join thousands of fellow industry professionals and see what lies ahead in your sector.
Community Ties
| | | |
| --- | --- | --- |
| UWNBC is a charity organization connecting resources to local needs throughout Northern BC. We help donors maximize their impact and meet their philanthropic priorities while helping local community organizations provide programs and services to our community's most vulnerable. | | |
Exhibit in the Show
Meet your customers live and in-person at this can't-miss opportunity for everyone who works in the Forestry, Mining, Road Building, Machinery and Transportation industries within the Northern region!
Visit the Show
Do you work in one of Northern Canada's forestry, construction, or infrastructure sectors? Join 8,000+ fellow colleagues at this major trade event!
Date, Time & Location
Friday, May 26
9:00 am – 5:00 pm
Saturday, May 27
9:00 am – 4:00 pm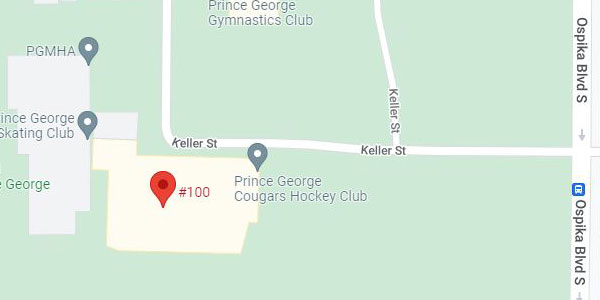 CN Centre
#100-2187 Ospika Blvd
Prince George, British Columbia
V2N 6Z1
250-561-7777
2023 Exhibitor List
Aalberts-IPS - 509
Alfagomma - 607
Alltech Group - 616
ANCRA Canada - 406
Armtec - 101
Axiom Equipment Inc. - 307
Babine Truck & Equipment Ltd. - P-19
Bandit Industries - P-4
BC Bolting - 204
Brandt Tractor Ltd - P-3
Brikers - P-14
Brockwhite - A White Cap Company - 207
Brunette Machinery Co - G-2
CanDrone - 614
Capri CMW Insurance - P-42
Catalys Lubricants Inc, - 208
Cenovus Energy - 312
Certified Commercial & Fleet Services - 804
Certified Labs div. of NCH Canada Inc. - 313
Coast Lubricants and Industrial Supply Ltd - 202
ColdFront - 408
Connexus Industries Inc - 513
ConTrac Equipment Ltd - 716
Cool Heat Truck Parts - 303
Cooper Equipment Rentals - 507
CustomVac Services Ltd. - P-41
DAGR Industrial Lighting - 102
De-On Supply Inc. - 403
DFI Piling - 702
Diamond Industries Ltd. - 103
Doepker Industries Ltd - P-51
Duz Cho Construction LP - 400
Enbridge / Fortis BC - 703
Everguard Fire Safety - P-49
Factors Western Inc. - 405
FAE Western Canada Ltd - P-53
First Truck Centre Prince George - P-10
Flash Fire Safety - P-48
Flexxaire - 512
FORED BC Society - 105
Foreman Equipment - 416
Fort Garry Industries Ltd. - P-39
FreFlyt Industries Inc. - P-37
Frontier Power Products - 606
Gear Equipment Inc - P-50
GMI Wheels - 411
Headwind Solutions - 201
Hunter Engineering Company - 214 & G-4
iGrip Industries inc. - 211
Inland Truck & Equipment - P-34 & 35
Iron Capital Rentals - 413
Jim Pattison Lease / VISA Truck Rentals - 210
KMS Tools - 700
Lawson Products - 506
Lease Link - 316
Leavitt Machinery - P-13
Liebherr Canada - P-22
Logging & Sawmilling Journal (LSJ Publishing) - 100
Lumisave Industrial LED Technologies Ltd. - 311
Machinery Supply - 516
MarketBook / ForestryTrader - 106
Marlim Ecological Consulting Ltd - 319
Mason Lift Limited - P-43
Morfco Supplies Ltd. - 500
New-Line Hose & Fittings - 304
Northern Metalic Sales - P-20
Ocean Trailer - P-38
Peerless Ltd. - P-7
Peterbilt Pacific Inc. - P-24
Pioneer Offroad Rentals - 203
Pioneer Parts Rebuilding LTD - 414
Prince George Portable Toilet Services LTD - 205
Prolenc Manufacturing Inc. - P-2
Promac Equipment - P-52
Quadco USA Inc. - P-31
Quality Chain Canada - P-46
R.L. Rurka Sales & Service Inc. - 200
Red Spade Ent Ltd - 306
Skeans Pneumatic & Automation Solutions - 805
Spatial Technologies - G-5
Standard Machine - 514
Star West Petroleum - 511
Stinger Welding Ltd - P-36
Summit Trailer - P-1
Surewerx - 505
Sussex Insurance - 407
Swift Fox Industries - P-33
Teaam Aeromedical - 705
The St.George Company - 611
Top Down Enterprises Inc. - P-32
Triple S Industries - 314
Uroll inc. - 212
Valhalla Equipment Inc. - P-8
Viking Cives LTD - P-26
Vivid Lumen Industries - 300
Vulcan Hoist - 508
Vulcan On-Board / SI On-Board Scales - 412
Waratah Forestry Canada - P-5
Western Equipment Ltd. - 709
WholeFleet Diagnostics - 800
Williams Machinery - P-44
Yokohama Off-Highway Tires America, Inc. - P-27